An accessible charging experience.
What does this mean and how are we delivering it?
What does accessibility mean in the EV industry?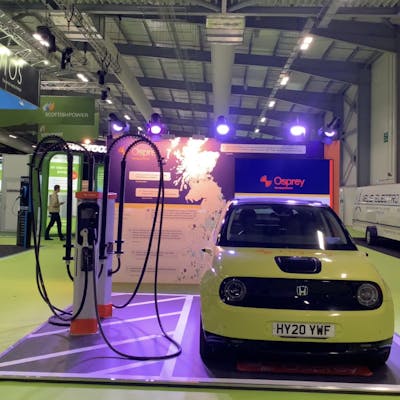 You might have noticed something different about our stand at Fully Charged Live this year: we displayed a true-to-size accessible charging bay, complete with two Kempower charging units and a Honda-e.
Currently, customers with mobility requirements are not well catered for by the UK charging infrastructure, as accessibility has rarely been factored into site design. We recognise this as a major issue that needs to be tackled and corrected across the charging industry. This is how Osprey are taking action now.
Through working with UK charity Motability and taking on customer feedback, we have built a thorough understanding of the key requirements that need to be been addressed in all public charging site design, including: space, curbs, screen and handle height, payment ease, cables and the general overall usability of a charger.
With physical space being one of the most important factors, we need to ensure that we are optimising this alongside unobstructed access to the charger. And prioritising charger usability (simple steps, standard payment method) for those with any type of mobility requirement, permanent or temporary (such as pregnancy) provides a better experience for all drivers.
Why is this only being tackled now?
The principal aim of EV infrastructure used to be to simply build as many sites as quickly as possible. However, this goal has come at the cost of accessibility and recently roll-outs have been scrutinised and criticised for not considering all drivers.
Control over the fixed space granted for a public charging site, and therefore ultimate responsibility, sits primarily with the landowner and not the chargepoint operator (unless the operator has bought the land). So, if we are to ensure going forward that new public charging at all types of sites meets the needs of all drivers, minimum standards on charging bays are essential. In order for these requirements to take effect and be enforced across the industry, the standards need to become law. Osprey are publicly promoting and supporting this movement, as this will ease the site design conversation with the partner landlord, as we will then be able to better work together to meet the standards and thus provide accessibility in all areas.
Responding to this matter, Motability and OZEV (Office for Zero-Emission Vehicles) have developed the 'PAS 1899' minimum standards for charging bays with the BSI standards around accessible charging likely to be finalised this summer.
What more are Osprey doing about accessibility?
Here at Osprey, we are managing the factors that we have control over. We are influencing and reassuring landlords that granting the extra space will make for a location that customers will return to, and we actively select the best hardware to maximise accessibility in each location. Additionally, we have completed an analysis and thorough site re-design to create ideal layouts for all future installs, to best utilise the space granted in each location. We are also going back to our older compact sites and reevaluating the site design for retrofit, changing bay layouts and installing more and better chargers, to improve customer experience across our whole network.
Alongside the charging site design, Osprey are also ensuring all other elements are suitable for all drivers, such as securing and installing appropriate hardware for the site, providing a range of payment options for customers and ensuring all branding colour choices are used correctly to improve accessibility.
Osprey's 2022 'flagship' sites
This year, we will be launching two of Osprey's 'flagship' charging hub sites, demonstrating improved accessibility and thus experience in all areas for all drivers. The first of these hubs will be launched at the Paisley Pear just off of the A43 in Brackley. Our new hub design works across sites with 4 or more chargers and Paisley Pear will be adopting this new design with 8 chargers, this will showcase what is expected as standard from all charging networks of the future.
Osprey's flagship site designs have been meticulously designed alongside Motability and individual drivers, as well as in consultation with our long-term landlord partners, to ensure the execution of the space granted is suitable for all drivers.
Access for all drivers
Osprey's hubs are built accessibly where we own the land, and where possible in the leased space granted to us by landlords.
Accessibility at Osprey